Products
Powder Processing Division
Turbo Mill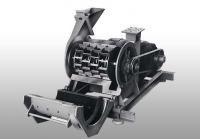 Manufacture: Freund-Turbo Corporation[Japan]

The Turbo Mill is a dry processing mill that goes a step beyond just impacting and shearing. It obtains your desired particle size by the impact from the high-speed rotation of blades and the high-speed vortex flow generated behind them. The Turbo Mill produces less fines than the jet mill resulting in a sharp particle size distribution, and it consumes less energy. A diverse lineup of models is available for just about any application and grinding particle diameter.
Features
1.Simple and solid design with no internal screens makes maintenance easy and promises nearly permanent and trouble-free operation.
2.Easy to open upper casing makes cleaning, maintenance and inspection simple.
3.The height and the installation area relative to throughput is less than other machines.
4.Energy costs for the Turbo Mill is lower (1/3 to 1/2), and produce less fines than the jet mill.
5.Water-cooled rotor (direct cooled rotor) (CR type) is available for heat sensitive raw material (retrofit possible in the existing Turbo Mill).
6.Spherical ground products can be obtained especially for toner.
Application
1.Toners, Powder coatings
2.Resins and other general chemicals
3.Pharmaceuticalas, Food products (flour etc.)
4.Inorganic materials (plaster etc.)
5.Paper, Wood chips, etc.
We also have other models available that are not shown here. Contact us for details.